Well, we got a little off topic today.... instead of math, we discussed college. This topic of conversation has its origins in three things that happened this week: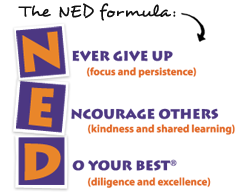 First, we had the NED Show come to our school this week. As you can see, the focus of the show is to empower our kids to take ownership of their learning.
Secondly, Martin Luther King Day is on Monday. We have encouraged our kids to begin thinking about their dreams!
Thirdly, my husband and I just found out our second daughter was accepted to Texas A&M University! Whoop!
So, I decided that this would be an appropriate day to discuss colleges and dreams. While it may have been off topic.... I think the kids enjoyed the discussion and may have been able to think of a "dream" that they can achieve by "never giving up" and "doing their best"!