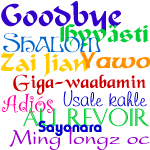 Another school year behind us, summer ahead of us.
I truly enjoyed teaching your children this year and exploring the use of technology in math with them! I hope that I was able to overcome any trepidation your child had about mathematics and maybe even fostered a love of math along the way! Remember, confidence in math is 3/4 of the battle!
Math is never easy, it is a puzzle to be solved. Please boost your child's confidence by telling them how proud you are of their math accomplishments! Always support their efforts in math and ALWAYS contact the math teacher if your child (or you) are struggling with a math concept. Together the puzzle can be solved!
Good luck traversing the Junior High halls!